Museums and Exhibits
Multiple Clients
My design experience includes museum exhibits and immersive experiences. As a designer, director, and content developer, I have collaborated with diverse teams to engage visitors' imagination, present clear and accessible information, and enthusiastically meet the goals of the project. Here are a few examples.

From 900 to 1300 AD, Cahokia was the trading and cultural center of North America. It was a city of about 20,000 people, larger than the city of London at that time. Its people traded goods and materials across the continent, and built monumental mounds that still exist today.
The Cahokia Mounds Museum was built at the city's historical site just east of present-day Saint Louis. As part of a team with Donna Lawrence Productions, I designed "City of the Sun", a 13-projector, multimedia show to introduce Cahokia and its people. The show has received multiple gold medals in national film festivals, including the 33rd Annual New York Film Festival.

As part of the design for this show, I developed conceptual sketches for three new paintings that were commissioned for this project. Then I had the pleasure to work with archaeological painter, Michael Hampshire, to realize them. These paintings were pivotal elements in "City of the Sun", and continue to be used today to help tell the story of Cahokia.
For this multi-projector experience, we developed interactive storyboards to simulate both the design and flow of the presentation, and document its programming architecture. The show has since been translated into a wide-screen video presentation, which still runs today.
MISSISSIPPI RIVER KIOSK
Fly Over the Mississippi
MNRRA – the Mississippi National River and Recreation Area – is part of the National Park Service that stretches along the Mississippi River through Minneapolis and St. Paul, Minnesota.
 
MNRRA coordinates environmental education with public and private organizations along the Mississippi River. They asked us to create a public kiosk-based interaction that reflected their unique situation.
 
In this experience you can visit historic sites, unravel a food web, operate a lock and dam, test your river knowledge, and fly over the river like a heron.
 
We created a modular system designed to allow multiple organizations to participate, and grow as funding became available. Each new module can be customized by each funding partner. They can use the program's administrative section to set their topic to be the "home" file. This allows them to feature their part of the Mississippi River story – while still allowing users to access the entire program. Together the linked stories create a multi-faceted picture of the river and its impact.
This project was started almost 20 years ago. It has adapted and grown over the years, and has become the basis for exhibits still in use today.
 
The Big Dig was the largest and most complex highway project in the history of the United States. It replaced the Central Artery highway in Boston with a 10-lane underground highway, built new bridges, and created over 300 acres of open waterfront land.
During this multi-year project, the Boston Museum of Science and Michael Sand created an experiential exhibit to describe the project's construction process and issues. We collaborated with Michael and his team to develop an educational kiosk within the exhibit. It merged videodisc interviews with simulated tasks and debates to immerse visitors in the big decisions and challenges that faced the project. You can talk to 8 different people and try the tasks for which they are responsible.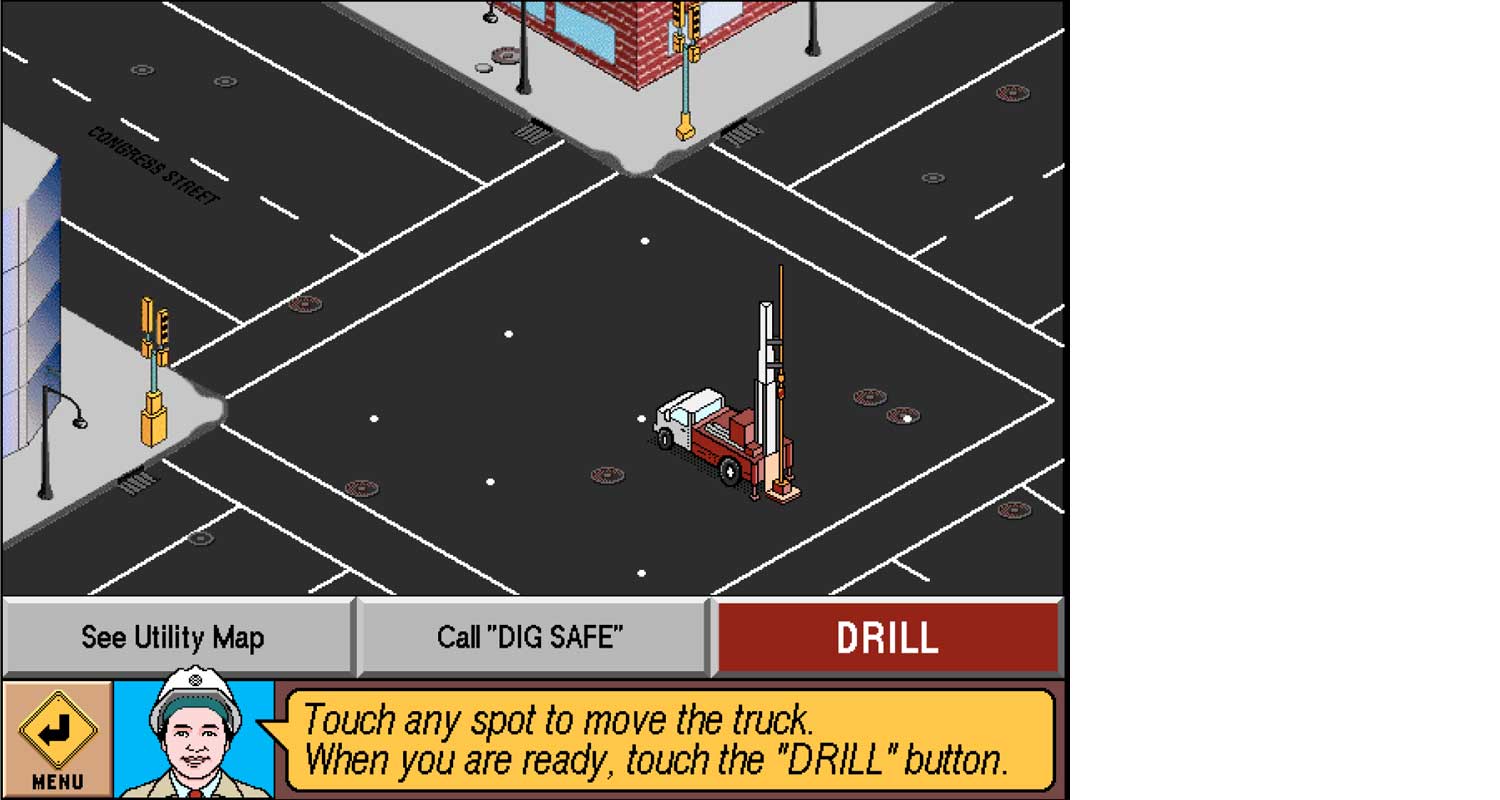 Dig for a core sample to decide where street utilities will be built.
Decide how new land will be used.
Design the entrance and exit ramps of a freeway.
When the Boy Scouts of America built a museum in western Kentucky, they included a 360 degree orientation theatre. This experience presented the scouting experience with seven screens and fifteen projectors, completely surrounding visitors. It opened with a Court of Honor ceremony for a new Eagle Scout, and culminated with the celebration of a National Scouting Jamboree.
I collaborated with Donna Lawrence Productions to design an immersive experience with this circular screen architecture. To facilitate our design process, I developed interactive storyboards to visualize the design and flow of the presentation, and document its unique programming architecture.